Pomskies for Sale!
We are a family-owned kennel located in Indiana that specializes in breeding the highest-quality Pomsky puppies possible. Each of our Pomsky pups are raised as part of our family, getting lots of daily attention as well as potty training to ensure they become a loving and well-behaved new member of your family.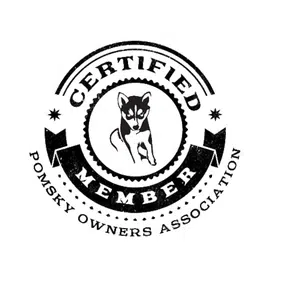 Lazy, Fluffy, Small!
The Pomsky is a cross between a Siberian Husky and a Pomeranian. The resulting Pomeranian-Husky mix is small to medium in size, and may also sometimes be called a Miniature Husky, though Pomsky is quickly becoming recognized as the preferred term for the breed. Puppies display a beautiful mix of features and personality traits from both parents, with many born with the striking blue eyes common to the Husky breed.
Pomsky puppies are charming dogs with wonderful personalities. Their laid-back attitude and moderate energy levels make them appropriate for any home, whether you have a large yard or live in an apartment. In addition, they are also highly intelligent, making them highly receptive to training. Pomskies are known for being highly affectionate and loyal, making them a wonderful family pet. They are also a suitable choice for households with small children and other pets.